JazzPolice
All the Things He Is: Reynold Philipsek Celebrates New CD Release, July 31st
Written by Andrea Canter, Contributing Editor
Tuesday, 27 July 2010
Reynold Philipsek with Jeff Brueske (Sidewalk Cafe) © Andrea Canter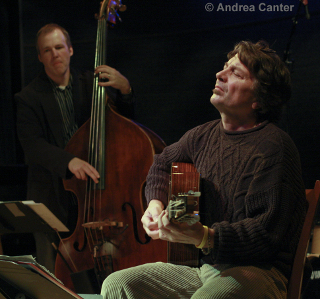 All the Things You Are, the title of Reynold Philipsek's latest release, could also be the title of his biography. As he states in his liner note, "When someone has spent an entire lifetime playing an instrument, many of the mannerisms that develop have roots in every episode and memory of a life, and the results produce an added element that goes beyond the notes." In the case of Philipsek, those roots include his Czech and Polish ancestry, a family heritage of craftsmanship, his parents' life in rural Minnesota, his own Roman Catholic upbringing, and of course his nearly lifelong commitment to music and particularly the gypsy jazz guitar. All the Things You Are is thus a cross-cultural, cross-generational journey and showcase for 9 new compositions as well as the title track, mostly performed solo (or with guitar/mandolin overdubs), with percussion support on two tracks from Michael Bissonnette and string accompaniment from Caroln Boulay and Dianne Tremaine on another. Philipsek will celebrate this "homage to my ancestors" on Saturday, July 31st, at the 318 Café in Excelsior.
Reynold Philipsek grew up in St. Cloud and became interested in the guitar in the wake of the Beatles' invasion. "I was about 10 when The Beatles hit America," he recalls. "That sparked an interest in guitar. I had already had an interest in music and learned how to play Stephen Foster songs on a small Farfisa organ my mother owned." A few years later he was a card-carrying member of the musicians' union, gigging in taverns and dance halls as a guitarist and singer, "though I have to admit, the songs I sang then were more likely to be by The Four Tops, Wilson Pickett or the Beatles and not by Gus Kahn, Cole Porter or George Gershwin." The gift of a reel-to-reel tape deck from his mother spurred "a lifelong addiction to the recording process," evident in his 35 (or more) recordings as leader (often solo), as well as fueling his interest in composition, with over 200 songs to his credit. At about age 18, he first heard the music of Django Reinhardt, and went on to study with the late Joe Pass and Mike Elliott. His music of the past decade has particularly emphasized his affinity for the gypsy jazz style, although he notes that "there is an element of Folk music in what I do that I have always felt but could never quite explain until now."
Reynold Philipsek's recordings have often been solo affairs, but he keeps busy as an ensemble guitarist, appearing regularly throughout the Twin Cities and beyond with the Twin Cities Hot Club, Sidewalk Café, and East Side, a melding of the musics of Astor Piazzola and Miles Davis, among others.
A 30-year cancer survivor (he was a "guinea pig" for early testicular cancer treatments in his 20s), Reynold "vowed to make the utmost use of my time," and has issued recordings nearly annually ever since. While this may seem to be an extravagant investment of both artistic energy and financial resources, Philipsek sees his output as a logical artifact of his artistic development.  "My first recordings barely recouped their investment, but over the years and many projects I have built up an audience both here and elsewhere to the point that every record I do will sell at least enough to make it worthwhile…It took a lot to build an audience and I don't take that for granted. Besides, recordings don't have to be costly endeavors…Especially if you have a clear concept of what you are trying to achieve. A lot of my records (not all) are done quickly in first or second takes. They are almost like field recordings. I look at recordings as artifacts or snapshots."
From this perspective, All the Things You Are may be his most personal album of "snapshots" yet, starting with the opening "Silesian Mist," "a nod to my Slavic [Upper Sielesia and Bohemia] ancestry…derived from an Eastern European scale." Augmented by Michael Bissonnette's percussion, the assertive guitar lines swirl and whirl with the harmonies and rhythms of Slavic dances, music that has been in Reynold's soul since birth, or before. "My grandfather (who played a  little guitar) was Polish and his family came from Twardawa near Opole in Poland…He showed me how to play the song 'Dark Eyes' which he called 'Russian Nights' for some reason… an old Russian traditional tune with a very Slavic feel to it. I always have played this song because it can be adapted to many genres. Perhaps part of my later attraction to Django and Gypsy Jazz in general has some nexus with this tune… This is the Slavic connection I wanted to illustrate."
"All The Things You Are," the only standard in this set, strongly hints of Philipsek's early mentor, Joe Pass, a delicately intricate rendering that fulfills its artistic mission in less than two minutes of graceful sound. "Beatnik Pie" could be a modern Django classic, while "Edgar Allen Poe," with its eerie, whispery background percussion from Bissonnette (shells?), nods back to Reynold's childhood interest in gothic poetry, "which, for full effect, I wrote with a makeshift quill." It's a very melodic, dark, gentle composition; the music might have been notated with a quill pen!
Reynold Philipsek © Andrea Canter
Strings (violin and cello) bring an orchestral elegance to "Time," a brief and wistful elegy, while "Tempus Fugit" (time flies) has a bright and upbeat swing cadence. A more syncopated swing (and overdubbed mandolin?) adds to the appeal of "Rara Avis" (rare bird), a tune that mildly suggests some of the folk music of Brazil. Philipsek notes that the Latin titles of these latter two tunes "emanate from my 1960s Catholic alter boy affinity for that arcane language." His "Tales of the Northwoods" highlights Reynold's skill in creating a twisty melody over a rhythmic base, the techno wizardry of overdubbing allowing him to play both lead and rhythmic guitar. (Reynold himself makes a great duo or trio!)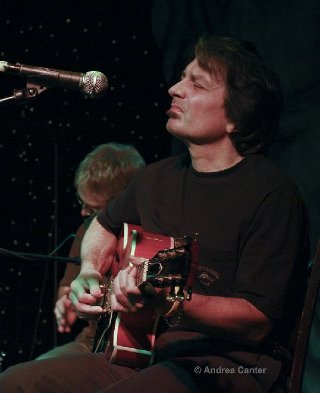 "Philip Marlowe" pays homage to a favorite film character in the Raymond Chandler classic, and suggests a melding of Django and Pass had there ever been a meeting of the two legends, with elements of the gypsy swing of the former and the elegant lyricism of the latter. Philipsek closes his journey with "Kiki," a tune that seems to summarize the entire set, incorporating an East European harmonic, a gypsy (more central European?) rhythmic feel, and an American urgency.
Notes Reynold, "It wasn't my intention to try to recreate Slavic music in a jazz context but to try and embrace everything in my background that makes up the past and use it in a musical way. I feel like it is high time for me to just be what I am in every regard." With All the Things You Are, Reynold Philipsek indeed gives us everything he is, everywhere he has been, and hints at all that he has yet to discover.
Copyright © 2010 JazzPoiice. All rights reserved.